If you haven't seen or heard or if you have simply lost your way on the internet, you should all be aware that Cath Kidston has recently dropped the newest Disney crossover in the form of the beloved spotty doggy characters that are known as 101 Dalmatians. You can browse and shop the fab collection here.
I was beyond excited when I found out that Cath Kidston was releasing this crossover. Simply because, 101 Dalmatians is my all time favourite Disney movie.
The animated tale was played all too much in my household whilst I was growing up. Adding that to the fact they created a live action film and a mini TV series; I think you'll find that this little bean was officially obsessed. I collected figurines of the characters and whilst my siblings and other friends were playing with barbies, dolls, pokemon cards and motorbikes, you'd find me at the kitchen table or behind the sofa playing with the figures below.
My mum and dad would reward good behaviour with a brand new pack of these collectibles and they would punish me by taking away my favourite ones. I had all the figurines, with some duplicates.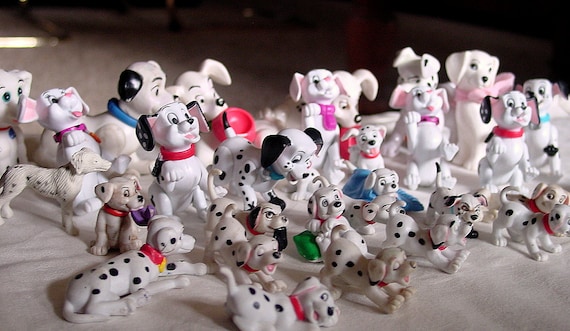 I was well and truly obsessed with the 101 Dalmatian franchise when I was younger, so much so, I used to want to BE a Dalmatian. I would run around on all fours, barking and pretending that I was sending a message via Twilight Bark in my back garden. At one point, I even convinced my mum to let me walk down the street on all fours. So yah, you see, I was fairly obsessed.
I think this obsession with 101 Dalmatians continued well into my early teenage years. I'll add in that I bought a plush Patch (pictured below in both photos that were taken two years ago) from the Disney store during my first year at University. When I was nineteen years old.

Left: Me and my bestie had a Disney night with our beloved characters. Right: My two favourite boys.
My first look at the Cath Kidston Dalmatian range had me holding my breath. I mean, have you seen it? There's travel bags, make up bags, wash bags, phone cases, jumpers, dresses,purses, fricking pajamas! All baring the beloved spotted prints and the much loved characters of my youth. My all time favourite thing that they've done is incorporate the opening townhouse scene into a beautifully elegant design that features on a number of items. Including the travel bag that instantly caught my eye.
Of course, I signed up for the early launch on the website because duh, what fan would I be if I didn't get on that band wagon straight away? I'll have you know that this fan gal had shopped her goods and checked out 7 minutes after the early launch had dropped. And what?
My bank balance unfortunately couldn't handle getting my hands on everything; I settled for the travel bag and a mug that features the Dalmatian Patch. The travel bag is so spacious, I can fit a week's worth of clothes in it and there is still room for my ipad, phone charger and the little Fuji  compact camera. The pattern is classic Cath Kidston floral, but it incorporates the opening sequence of the animated Disney film and has included a few of my favourite pups and pets. The mug is also super cute, light weighted and perfect for a morning cuppa with the cheeky face of Patch staring back at you.
I'll tell you a little story about Patch too as he seems to be a collector favourite of mine. Aside from the large plush I bought during my first year of Uni (a similar version of my Patch is still available in the Disney store actually. Find him here.) I also have an older style Dalmatian plush featured below with my newly Cath Kidston purchases; he was bought from the Disney store over twenty one years ago. Golly I feel old. Anyways, Patch below is now renamed as Lucky (sticking to the theme see). This is because one day, as my family and I were driving along the M5 motorway on our way down to Devon on a hot summer's day, I was playing with Patch and I almost dropped him out the window. From that day, he has now been renamed Lucky and Lucky comes almost everywhere with me. He is my childhood comfort blanket. He has a place beside my bed nowadays, but there are some nights when I need him with me inside the duvet. For example, if I'm unwell or if Conner is away, you'll almost always find me curled up with him clutched tightly to my chest.
 I have recently just returned from a glorious sunny week at home after cat sitting whilst my sister was on holiday. She returned from her travels, golden tanned and beautiful with the best thank you gift I could never of imagined. She presented me with the Dalmatians Washbag! I was godsmacked. Originally, when the early launch dropped, I was considering buying it because I didn't think I could afford my townhouse foldaway, but my obsession got the better of me as you can see. Regardless, the washbag was something I considered treating myself to, once payday came around.
But now there is no need because my sister is a dream. I can now think about investing in the pajamas instead. This range has always made me want to have more nieces and nephews so I can purchase the tiny baby shoes and baby grows featuring the characters. My own child will have the obsession passed down to him/her.
As you may be able to tell from my writing and ranting and raving, there is rarely any point to this post – other than me gushing about my love for Cath Kidston's new range and 101 Dalmatians. I guess its merely an appreciation post. Cath Kidston is the bomb for creating this range and for making the child in me grin from ear to ear.
But upon reflection, this new range and particularly, the most recent gift has also comforted me in a time of great sadness and loss that has been put upon me. My mother is beginning her new journey of moving out of my childhood home, the only childhood home I have ever known; a home that was filled with love and millions of unforgettable memories. My entire 101 Dalmatians obsessed childhood was spent growing up in that house and on Thursday, it was the last time I would ever leave that house knowing it as mine.
But, with the help of this new collection, Cath Kidston is allowing me to continue my 101 Dalmatians obsession with new found love and appreciation for the Disney characters that stole my heat so many years ago. So I want to say thank you Cath Kidston; you've made the child in me a little less sad and a little more excited for new adventures.